Big families do everything on a larger scale than most – the noise, the banter, the cooking, and especially the laundry! So who best to provide helpful tips than the parents of some of the biggest families in the UK? Here's how these larger-than-life characters run their households, raise their families, and travel – all while making it look like so much fun….
Five Little Doves
"How's this for a money saving decoration hack? Instead of going out and buying fancy pictures for your kid's room, simply hang up their artwork instead? …It somehow makes the room feel vibrant and full of life, yet homely at the same time."
Whether you frame your children's artwork or peg it to a piece of twine, Laura's tips for decorating your child's bedroom will give them a space to be proud of. Lancashire-based Laura is the voice behind Five Little Doves, a beautifully written blog that shares the highs and lows of raising four children, while keeping alive the precious memory of a fifth who sadly passed away.
This fun-loving, globe-trotting family of 6 will certainly fuel your wanderlust. From 10 reasons why Sicily is the perfect holiday destination for families to child-friendly activities in New York, and long haul jaunts to Australia, there's something to suit adventurers of all ages. And if mornings in your house don't always go as smoothly as you'd like, take a leaf out of Laura's book and try this recipe for homemade oat and honey breakfast bars. Genius!
Ashley Bailie
Ashley Bailie is a Northern Irish mum to 5 children aged 7 and under! A personal shopper, mother and vlogger, Ashley's incredibly popular YouTube channel is the perfect place to look for family meal ideas and budget hauls while enjoying a birds-eye view of "the general chaos of large family living."
Ashley's large family frugal dinners couldn't be simpler to follow. Cooking one healthy and nutritious meal for everyone is cost-effective – and everything Ashley makes looks absolutely delicious. Her chicken dinner is definitely a winner, and we love how she's able to make a gammon joint stretch to several meals.
Want to know what Christmas with 5 small children looks like? Gorgeous!
The Mummy Adventure
How would you feel about taking 4 children under the age of 8 skiing? Over at The Mummy Adventure, Bex has been taking hers to the slopes for years, but this was the first time that everyone was able to take part:
"The pride the children had in learning a new skill and mastering an existing one was incredible and their faces by 5 o'clock were rosy and warm and full of joy."
If you want to know how it's done, her family ski-holiday post is a great place to start. Want to hear 8-year old Dylan's perspective? His post is fantastic too! Mum-of-four Bex says that having children is the biggest adventure she's ever undertaken. Her blog is a positive and inspiring place to spend a few hours - especially if, like Bex, your bucket list revolves around travel with your family.
This Mummy Rocks
When you've successfully navigated the first day of school 5 separate times, you're likely to have learnt some useful things along the way. Over at This Mummy Rocks, mother-of-5-boys Claire shares some tried-and-tested top tips for starting school along with this, her most important piece of advice:
"Try not to let your child pick up on your feelings of anxiety about them starting school… communicate to your child that you have confidence in them… and wait until they have gone inside [before you burst into tears]."
Kids come home from school tired and hungry. For the "only tomato sauce recipe that you will ever need to know," check out Claire's holy grail of hidden veg. She uses the same base recipe for pasta, pizza topping, chilli, chicken casserole, or for dipping with fish fingers. Time-saving, healthy, economical and delicious - what more could you ask for?
The Radford Family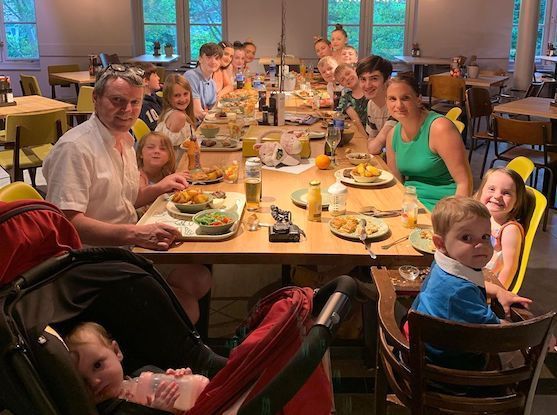 The Radfords are no ordinary family. With 21 children, they are Britain's largest family, and the owners of a specialist bakery that supplies pies all over the UK.
The Radford Family's YouTube channel is filled with family fun, challenges, cooking on a budget and hauls. Watch what happens when mum Sue brings the newest addition to the family home to meet her siblings. Not sure what to pack in your own hospital bag when preparing to give birth? This mum knows all the tricks when it comes to planning the perfect delivery. And if you think Easter involves a lot of chocolate in your house, check out this Easter egg haul for size!
Not only is the Radford family the biggest we've ever seen, it's also one of the calmest. With never a raised voice, this loving family makes parenting on a grand scale look, if not always easy, certainly lots of fun.
Big Family Organised Chaos
Do you step on toy cars all over the house? Organise your kids' rooms and make tidy-up-time a breeze with this great tip from Mandi Morrison, a qualified nursery nurse and mum-of-seven:
"Use a wooden breakfast tray and decorate it with your child's name, car stickers, or knobs. Now place your child's cars, trucks, and motorcycles in the tray."
Once you've decorated and filled your tray, simply slide it under your child's bed at the end of the day for a quick tidy-up chore that feels like a game.
Over at Big Family Organised Chaos, Mandi has lots of ideas for teaching children to be independent: "After all, a mama bird wants her baby birds to learn to fly!" Want to get the kids to help more around the house? Check out her downloadable chore chart to encourage them to take on some age-appropriate responsibilities. And if you live with teenagers, here are some practical spring cleaning tips to inspire a bedroom makeover they'll be proud of.
Super Busy Mum
Constantly coming up with crowd-pleasing meals can be tricky for parents with many mouths to feed, like mum-of-five Deborah. This Super Busy Mum shares quick and easy recipe ideas to take the stress out of meal times. Try making her slow cooker meatball sub sandwiches for a hassle-free dinner. And for something all kids will love, check out her campfire cooking post where everyone can adjust their own 'ready meals' according to taste!
Going on holiday with a large family can be a costly affair, but Deborah has plenty of suggestions for UK-based staycations that won't break the bank. Her top five summer holiday destinations in the UK are child-friendly winners. And being based in Northern Ireland, this family is perfectly placed to share insider tips about visiting the Emerald Isle. From bodyboarding at Castlerock to days out in Dublin, Bangor and Belfast - there's no shortage of inspiration to help you plan your next trip.
We hope these big family bloggers have provided plenty of food for thought and ideas to help you run your own households. If you know of a blogger we've missed, drop us a line over on Facebook or Twitter. We always love to hear from you.
Lead image: Vitalinka